[Saesneg yn unig]
Although I've been working in Aberystwyth University since the start of February, finishing work on my PhD had consumed every spare moment I had until now. Finally, I had some time this weekend to go out exploring around my new home!
To make sure I could see a few sites, I spent some time looking at my OS map and the Coflein map, trying to find a couple of areas where sites were clustered. I wasn't very confident about heading out on my own in a totally new mountain range, and was a bit worried I might get lost, so my parents joined me on my little trip out. Together, we set off exploring together on a rather wet Saturday morning.
We started at Ponterwyd, and drove north into the mountains towards Disgwylfa Fach. We spotted one of the stones we were looking for on the side of Disgwylfa Fach and found a nearby place to park the car. From the road, the stone didn't look very far, but the ground looked a little rough so my dad and I grabbed some walking poles and set off. The walking poles turned out to be very useful, as the 'rough ground' was, in fact, thick, knee-high grass with boggy ground below.
The OS map marked a single standing stone in the area, but when we got to the top, we found a second stone – a large white quartz boulder – with a row of small stones coming from it. We decided this couldn't possibly be a natural feature, and decided to photograph it. Doing some research on Coflein later, it turned out we had found the Disgwylfa Fach stone row. The Two largest stones were quite prominent, but the other 5 were very small and barely stuck out from the top of the grass; I am not sure the smaller stones will be visible enough for them to feature in the 3D model. Or I may just have to head back and get some more photos!
As we headed off towards the Disgwylfa Fach standing stone, the skies opened and it began to pour with rain. My dad kindly held up an umbrella for me while I photographed the stone (fortunately, the wind wasn't too bad). After about 5 minutes the rain suddenly stopped, so we took the opportunity to get back to the car in the dry.
Heading off further down the road, we came to the standing stone pair called Y Buwch a'r Llo (the Cow and Calf), which was much easier to get to than the Disgwylfa Fach stones!
Just a couple of minutes' walk down the road we found Maen Tarw (the Bull Stone); also a nice, easy find. The stone is broken, and although no explanation is offered in the Coflein entry for the stone itself, there may be a reference to it in the entry for the Buwch and Llo pair:
"Third stone to west in forestry struck by forestry machine at some point in 20th century and broken in-situ."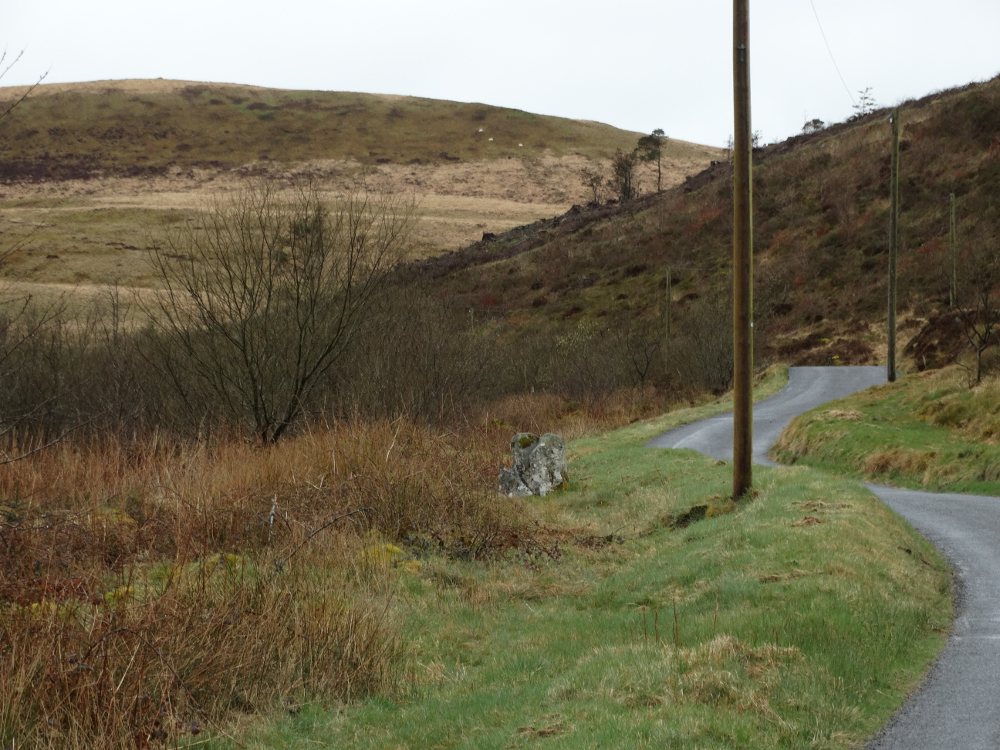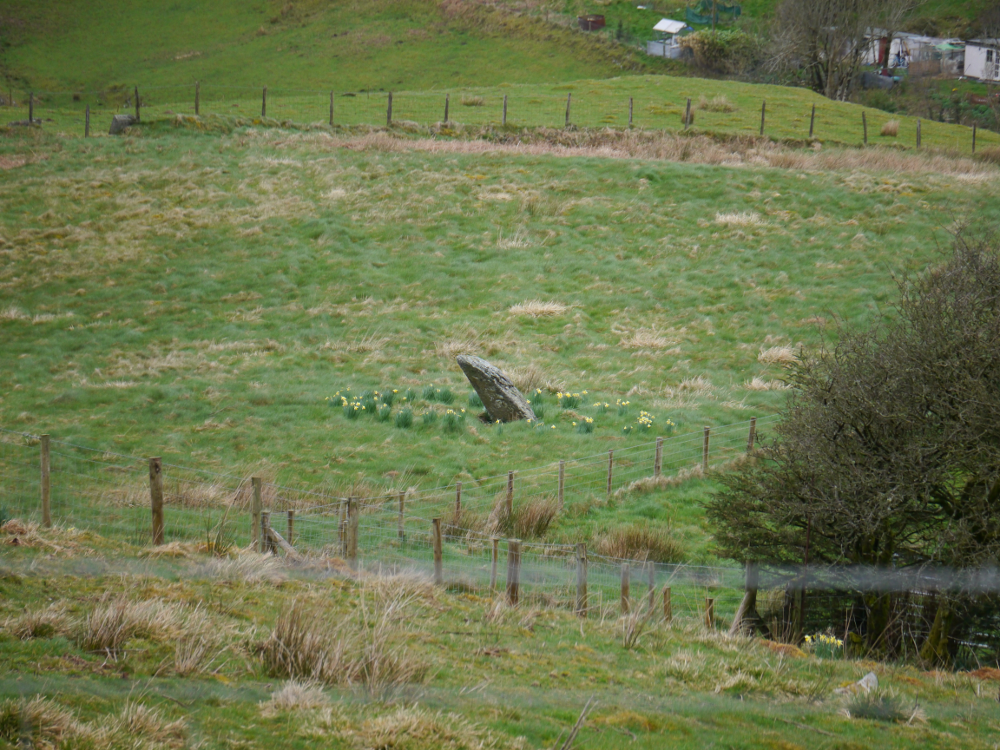 After parking the car near Llyn Pandam, we followed the Devil's Bridge to Borth path, until we spotted Garrig Hir in a field near a small cottage. Though we could see it from the footpath, we weren't entirely sure on public access rights, and so we did not attempt to get any closer. I plan to look into this, and hopefully will head back to the site if it is accessible – looks like it would make a nice model!
We set off to look for some other potential sites, but by now the weather had taken a particularly bad turn, so we decided to stay in the car and scout them out for next time. We spotted the Garn Lwyd stone and the Hirnant kerbed cairn, but given that they were both behind fences, I plan to check whether there is public access before trying to visit them.